Get 30% discount on our complete bench portfolio. Offer valid until 31/12/2020.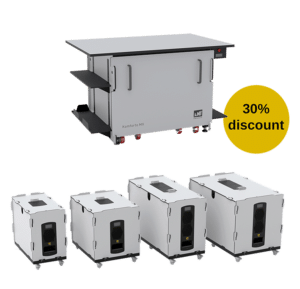 Our LNI Swissgas premium benches:
Modular
Flexible design
Smart
Robust
Noise reduction – 15dB
Compatible with all OEM instruments (Agilent, Shimadzu, SCIEX, Thermo, Bruker, PerkinElmer, Waters)
LNI Swissgas premium benches are the perfect solution to save space in the laboratory and at the same time provides the best access to the instrument. They offer a quieter working environment by dramatically reducing the noise of the roughing pump.
Discover our range of Premium Benches and noise enclosures.
Check our video:
And contact our offices for more information! We will be happy to assist you.