H2 SENSOR KIT-010-020
Environment H2 sensor kit
This H2-SENSOR Kit is a security system that constantly detects the amount of Hydrogen present in the working environment of the GC and blocks the Hydrogen generation if it detects an amount greater than the safety threshold.
The 6940.00.055 controller reads the percentage of Hydrogen measured by the sensor 6940.00.060 and, if the value exceeds the threshold alarm, the Controller deactivates the solenoid valve in the 6940.00.056 block.
The alarm can be signaled to a PC and to a remote device.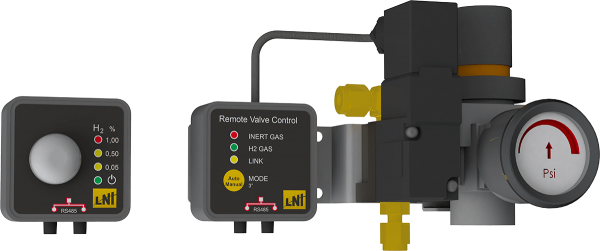 Product features
Continuous monitoring of the working environment
Compatible with all GCs
Simple installation
Simple calibration
Acoustic and optical alarms
Potential explosion risks eliminated
Low operating costs
Main applications
GC working environment
All environments where Hydrogen is used
Technical specifications
Models: 6940.00.050
6940.00.055
Power Supply Voltage
12 VDC +/- 5%
Power Supply Current
0.8 A use with 6940.00.056
Valve output
Open collector
12VDC/500mA
Ambient temperature
5-35°C (41-95°F)
Ambient Humidity (max, non condensing)
80% at 25°C (77°F)
IP rating
IP20
6940.00.056
Hydrogen Inlet pressure
1 to 9 bar
Inert Inlet pressure
1 to 10 bar
Pressure regulator
1 to 9 bar
6940.00.060
Hydrogen Sensitivity Range
0.01% to 1.00% by hydrogen volume (25% LEL, Lower Explosion Limit)
Accuracy
± (5.0% of F.S. + 1000ppm)
Typical Response Time
less than 20 sec
Power Supply Voltage
From 9VDC to 28VDC
Communication port
RS-485
Protocol
MODBUS-RTU
Calibration Interval
1 year (suggested 180 days)
Hydrogen Sensor Technology
Dioxide semiconductor
Product Life Expectancy
10 years
Body temperature range
-10 °C to 40 °C
Information request
Need more information about this product?
Please contact us at info@lni-swissgas.eu or fill the form.
Do you need technical support?