NG RACK 7U
Ultra High purity Nitrogen generator RACK 19" casing
The High purity NitroGen series NG RACK 7U produce laboratory high grade nitrogen for most of the laboratory applications and equipments. Designed with safety and convenience in mind, this system generates purified nitrogen, eliminating the need for inconvenient cumbersome high-pressure gas cylinders.
The NG RACK 7U removes oxygen from air to less than 1 ppm and HC pollutants to less than 0.05ppm (if the optional scrubber is installed). This generator needs an external compressed air source and it is able to produce a flow of 2000 cc/min
The Ultra Pure Nitrogen is mainly used to feed ICP, ELSD, GC, FTIR and is ideal as nitrogen gas supply for all kind of Laboratory and Chromatography applications.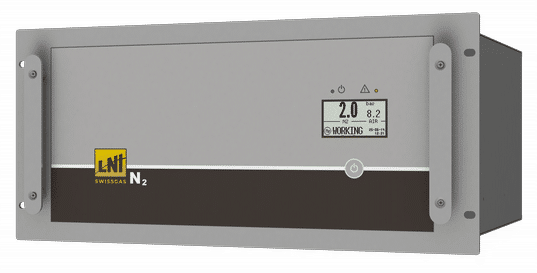 Product features
Easy use and installation
Purities up to 99.9999%
Pressure up to 8 bar
Flow rate up to 2000 cc/min
Low maintenance
Reduced foot print
CH4 oven scrubber option
Stackable with HG and ZA
Main applications
ICP / ELSD
GC / FTIR
Incubators
Technical specifications
Models: NG RACK 7U
2000
N2 outlet
Flow rate (Max)
2000 cc/min
Outlet pressure (min)
1.0 bar (14.5 psi)
Outlet pressure (Max)
Inlet pressure – 2.0 bar (29 psi)
Nitrogen purity *1
> 99.9999%
Outlet Dew-point *2
<-60°C (-76°F)
Hydrocarbon content *3
<0.05 ppm (with option 6920.31.010)
Air inlet
Air inlet requirement
ISO 8573-1:2010 Class [1:3:1]
Flow rate (Max)
20 l/min
min / Max supply pressure
6.5 bars (95 psi) / 10 bars (145 psi)
min / Max temperature
5°C (41°F) / 35°C(95°F)
Communication
LCD with touch screen
Standard
RS232
Standard
RS485
Standard
General data
Supply rating
100-240Vac (±10%) 50/60 Hz
Connection type
IEC320-C14
Nominal power (Max)
70W (200W)
Fuse rating (5x20mm)
4A (250Vac – T)
Net weight
< 40 kg
Dimensions
Standard 19" Rack 5U – deep 55 cm
Connections
Outlet port
1/8″ BSPP female
Inlet port
1/8″ BSPP female
Operating conditions
Temperature
5-35°C (41-95°F)
Humidity (max, non condensing)
80% [5-35°C (41-95°F)]
Noise
< 45dB(A)
IP rating
IP20
Pollution degree rating
2 (with no aromatic compounds)
Altitude
< 2000m
*1 The purity refers to the residual oxygen
*2 Atmospheric Dew Point (ADP)
*3 with option CH4 scrubber installed
Information request
Need more information about this product?
Please contact us at info@lni-swissgas.eu or fill the form.
Do you need technical support?