NG EOLO XL / ZNG EOLO XL
PSA UHP Nitrogen generator
The NG EOLO XL Ultra High Purity Nitrogen Generators are engineered to transform standard compressed air into a safe regulated supply of Nitrogen with a purity up to 99.9995%.
They are equipped with columns containing carbon molecular sieve that remove the oxygen, some hydrocarbons, moisture and carbon dioxide and subsequently release only ultra high pure Nitrogen gas.
The ZNG EOLO XL series is also equipped with a catalyst module to remove hydrocarbons (<0.1ppm).
Exclusive electronic flow control that allows to generate Nitrogen with higher purity using a smaller volume of air and consequent reducing energy costs and the maintenance of external compressor.
Continuous control of the operating parameters to maintain the system at its maximum efficiency.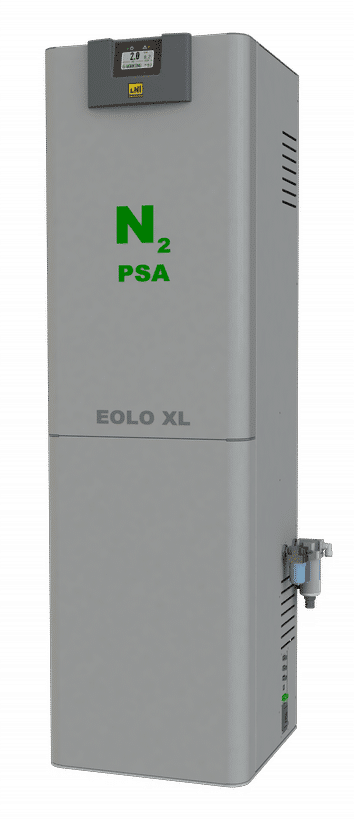 Product features
Generates Nitrogen on demand from external compressed air
Designed to run 24 hours a day
Less bulky than the Nitrogen high pressure cylinders and safe improvement due to their elimination from laboratory
Low power, low noise, low maintenance
Internal Nitrogen tank
Catalyst module to remove hydrocarbons in ZNG series
Main applications
GC
ICP
TOD
DMA
TMA
TGA
DSC
Technical specifications
Models: NG EOLO XL
5
10
16
18
Z – 5
Z – 10
Z – 18
N2 outlet
Flow rate (Max)
5 l/min
10 l/min
16 l/min
18 l/min
5 l/min
10 l/min
18 l/min
Outlet pressure (Max)
Air Inlet pressure – 2 bar
Nitrogen purity*1
99.9999%

@ 5 l/min

99.9999%

@ 10 l/min

99.9995%

@ 16 l/min

99.99%
@25L/min

99.9%

@30 l/min*2

99.999%

@ 18 l/min

99.99%
@30 l/min

99.9%

@ 35 l/min*2

99.9999%

@ 5 l/min

99.9999%

@ 10 l/min

99.9995%

@ 18 l/min

99.995%

@30 l/min

Outlet Dew-point *3
<-50°C (-58°F)
Outlet particulate
0.01 micron
Hydrocarbon content
–
< 0.1 ppm (in series ZNG)
Air inlet
Air inlet requirement
ISO 8573-1:2010 Class [1:3:1]
Flow rate (Max)
75 l/min
95 l/min
110 l/min
120 l/min
75 l/min
95 l/min
120 l/min
Supply pressure (min-Max)
6.5 bars (95 psi) – 10 bars (145 psi) *4
Recommended temperature
< 30°C (86°F)
Communication
LCD with touch-screen
Standard
RS485
Standard
RS232
Standard
Digital I/O
Standard
General data
Supply rating
100-240Vac (±10%) 50/60 Hz
Connection type
IEC320-C14
Nominal power (max)
280W
Fuse rating (5x20mm)
4A (250VAC – T)
Net weight
< 180 kg
Dimensions (W x D x H)
50 x 56 x 120 cm
Connections
Outlet filter port
1/8" female BSPP
Inlet filter port
1/4" female BSPP
Drain port
Quick fitting for tube 8mm
Operating/storage conditions
Working Temperature
5-40°C (41-104°F)
Storage Temperature
1-50°C (34-122°F)
Humidity (max, non condensing)
70% [5-40°C (41-104°F)]
Noise
< 35dB(A)
IP rating
IP20
Pollution degree rating
2 (with no aromatic compounds)
Altitude
< 2000m
*1 The purity refers to the residual oxygen
*2 With an external tank >50l; Inlet pressure >9bar
*3Suggested inlet pressure for optimal operation of the N2 generator >= 8 bar (116 psi)
Information request
Need more information about this product?
Please contact us at info@lni-swissgas.eu or fill the form.
Do you need technical support?