new
DEMINERALIZATOR HLP 5p/ 10p/ 20p
Water demineralization system
The LNI demineralizators HLP series are able to supply purified water for instrumental and analytical purposes matching requirements of every modern laboratories. Conductivity of obtained water does not exceed 0.06 µS/cm, so it is applicable for PN-EN ISO 3696:1999, ASTM, CLSI, FP standards.
The system is the ideal water purification system for AAS, ICP/MS, IC, HPLC, GC instrumental analyses. Our demineralizators are equipped with a microprocessor control and measurement system. The LCD interface provides simple and user-friendly management of all functions on the unit.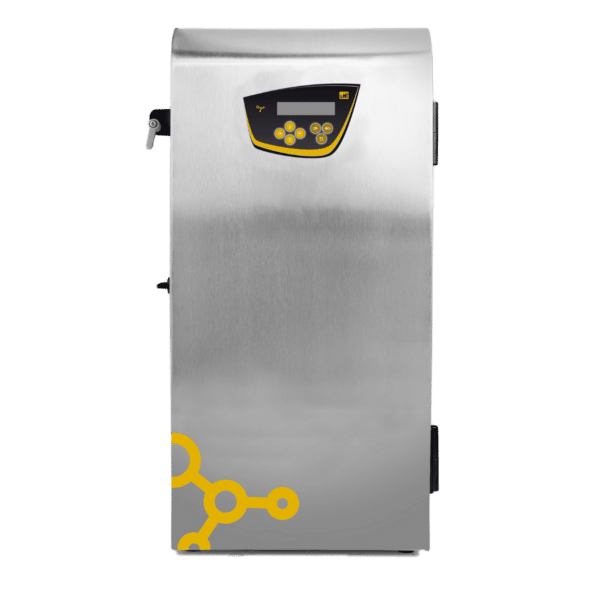 new
Product features
Water purified in this device fits the PN-EN ISO 3696:1999 standard for class II purity, and microbiological/ physicochemical FP requirements for purified production water
Powered by: tap water
Efficiency: 5 -22 l/h
Purified water intake speed: 1-2 I/min.
Conductivity < 0,06 µS/cm
Particle filtration: 1 µm
Low maintenance
Reduced foot print
Technical specifications
Models:
HLP 5p
HLP 10p
HLP 20p
General information
Power
Tap water pressure
Efficiency
5-7 l/h
10-12 l/h
20-22 l/h
Purified water intake speed
1-2 I/min
Conductivity
< 0.06 µS/cm
Particles
1 µm
Dimensions (mm)
232 mm (W) x 510 mm (H) x 443 mm (D)
232 mm (W) x 570 mm (H) x 478 mm (D)
 235mm (W)x570mm x ( H)470 mm (D)
Housing
Acid-proof stainless steel
Water purification levels
Sediment filtration
1 µm
Module
Integrated (sediment-carbon-softening)
Demineralization
Mixed ion exchange
Osmosis
reverse
Water
Water oulet pressure
ca. 2 bar, regulator
Tank capacity
10 L
Tank dimensions
390 mm (H) x 250 mm  (DIA)
Temperature
5 – 40 °C
Feed water parameters
Conductivity
< 1200 µS/cm
Pressure
 > 3.0 bar
Hardness
< 250 mg CaCO3/l
Fe
< 0.2 mg/l
Electrical data
Supply voltage
230V/50Hz
Water pump
24V
Energy Consumption
20-100W
Connections
Cold tap water
½" or ¾ fitting
Connector
RS 232
Information request
Need more information about this product?
Please contact us at info@lni-swissgas.eu or fill the form.
Do you need technical support?