BEAM 4 series
Laser Gas Generators ZN2 for Laser Purge with integrated compressor
The BEAM 4 series perform in 24/7 production process worldwide with utmost reliability. Even under the most challenging environments BEAM 4 series guarantee frictionless industrial use for different applications (example: high power UV-lasers <266 nm / Optical Parametric Amplifiers). The Generator produces a continuous flow of Nitrogen with High Purity Laser Grade. The BEAM 4 series has been developed to meet specific requirements in term of gas, flow, purity and pressure for Laser applications. This generator is equipped with a smart low noise built-in pistons compressor, 100% oil-free.
The BEAM 4 series remove oxygen from air to less than 5 ppm and HC pollutants to less than 0.1ppm
LNI Swissgas recognizes the importance of having a safe, reliable and cost-effective supply of high reliable Nitrogen for Lasers.
In addition, providing flexibility to add or remove modules as your application requirements evolve over time.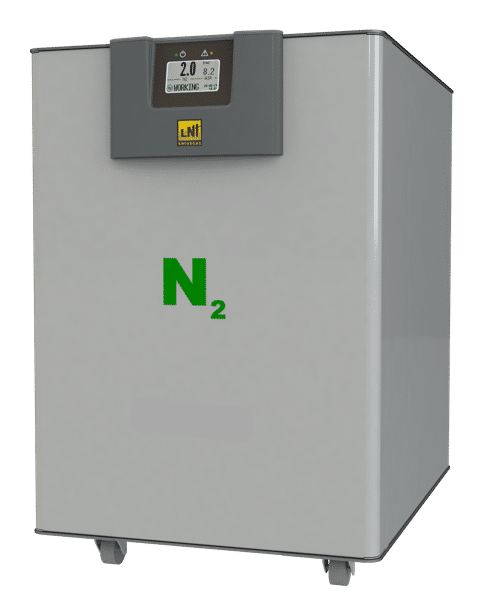 Product features
Easy use and installation
Purities up to 99.9999 %
Pressure up to 5.5 bar
Flow rate up to 3 L/min
Long life and 100% oil free built-in compressor
Reduced foot print
integrated compressor
Main applications
Our generators continually protect optics, crystals and coatings of the laser beam path against particles, humidity
Technical specifications
Model:
BEAM 4.0
BEAM 4.1
Nitrogen Outlet
Flow rate (Max)
1500 cc/min
3000 cc/min
Outlet pressure (min)
5.5 bars (79,7 psi)
Nitrogen purity *1
99,9999% (Hydrocarbons <0.01 ppm)
Outlet Dew-point
<-60°C (-76°F)
Outlet particulate
0.01 micron
Communication
RS485
Standard
RS232
Standard
General data
Supply rating
100-115 Vac 50/60 Hz or 220-240Vac 50/60Hz
Connection type
IEC320-C13
Installaton power (max)
1000W
Fuse rating (5x20mm)
6.3 A
Net weight
<60 kg
Dimensions
430 x 580 x 630 (mm)
Pneumatic connections
Outlet port
1/8″ female BSPP
Operating/Storage conditions
Working Temperature
5-35°C (41-95°F)
Storage Temperature
1-50°C (34-122°F)
Humidity (max, non condensing)
70%
Noise
<58 dB(A)
IP rating
IP20
 Pullution degree rating
2 (with no aromatic compunds)
Altitude
< 2000m
*1 The purity refers to the residual oxygen, depends on flow and working pressure
Information request
Need more information about this product?
Please contact us at info@lni-swissgas.eu or fill the form.
Do you need technical support?