AG OFCAS 35
Air compressor
The high quality of the materials combined with cutting-edge technology of the compressor unit, ensure reliability, professionalism and economy and allows continuous use, unthinkable in traditional direct-drive oil-free compressors.
The AirGen OFCAS 35 is the ideal compressor to supply all Zero Air generators ZA FID and ZA Total or the high purity Nitrogen generator NG EOLO.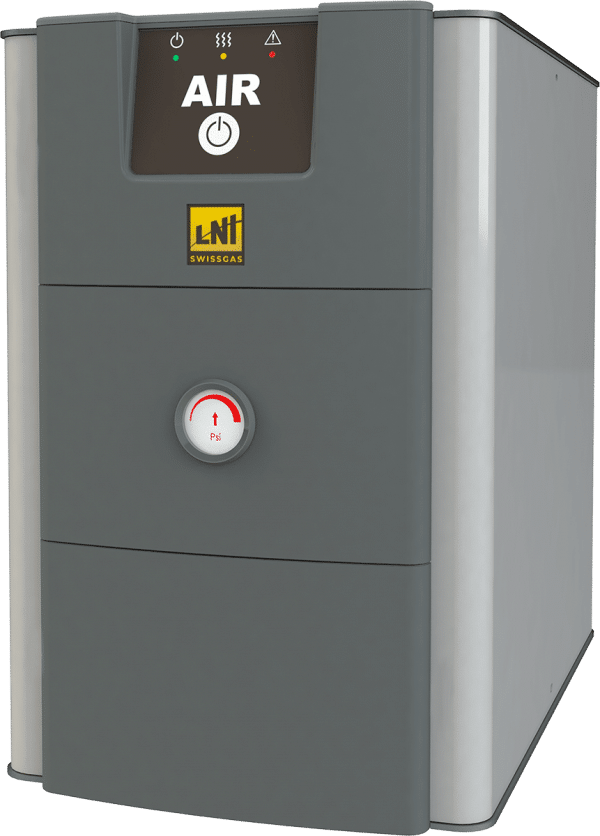 Product features
Ultra silent technology: 58 dB(A)
Oil free
Low maintenance
Smooth running – low vibrations
Compact
Reliable
Automatic water purge
Main applications
Medical laboratories
Chemical and pharmaceutical industry
Food factory
Laser equipments
Technical specifications
Model: AG OFCAS
35
General data
Rated power (Max)
0.75 kW
Internal tank capacity
4 L
Dimensions
27(W) x 44(D) x 41(H) cm
Net weight
35 kg
Noise level
58dB(A) at 1,5 m from front
Air Outlet
Operation control
Electronic pressure control – Set point with hysteresys
Free Air Delivery
35 l/min @ 7Bar
Working pressure (min; Max)
6bar (87psi) / 8.5bar (123psi)
Dew point *1
< -20°C (<-4°F)
 Electrical data
Supply rating
100-115Vac (±10%) 50/60 Hz
or
230Vac (±10%) 50/60 Hz
Connection type
IEC320-C13
Nominal power
750W
Fuse rating (5x20mm)
10A (250Vac)
 Connections
Compressed Air outlet
1/8" BSPP female fitting
Condensate water drain
1/4" BSPP female fitting
 Operating/storage conditions
Working Temperature
 5-40°C (41-104°F)
Storage Temperature
 1-50°C (34-122°F)
Humidity (max, non condensing)
80% [5-40°C (41-104°F)]
Heat value
2560
IP rating
 IP20
Pollution degree rating
 2 (with no aromatic compounds)
Altitude
 < 2000m
*1               Atmospheric Dew-point (ADP)
Information request
Need more information about this product?
Please contact us at info@lni-swissgas.eu or fill the form.
Do you need technical support?