neu
SONIMIX 6000 C1
Permeation multigas calibrator
The multipoint multigas calibrator SONIMIX 6000C1 is an instrument designed to calibrate manually or by remote control up to 5 gas monitors installed in an Air pollution monitoring station, such as SO2, HC or BTX, CO, NOx and O3.
With the optional Ozone generator and GPT circuitry it is possible to verify the coherence of NO, NO2 and O3 analysers, and to determine the converter's efficiency of the NOx monitors.
The interface allows to Configure the calibrator and to perform the manual operations of calibrations and GPT necessary after the maintenance process on the analysers.
Equipped with a binary gas mixer, based on high precision mass flow controllers and mechanical pressure regulators the SONIMIX 6000C1 can generate accurate dilution to low ppb level.
Options :
– Permeation oven of different sizes and material (up to 3 permeation oven per device), with a specific oven able to contain up to 6 BTEX permeation tubes.
– Ozone generator and GPT circuits.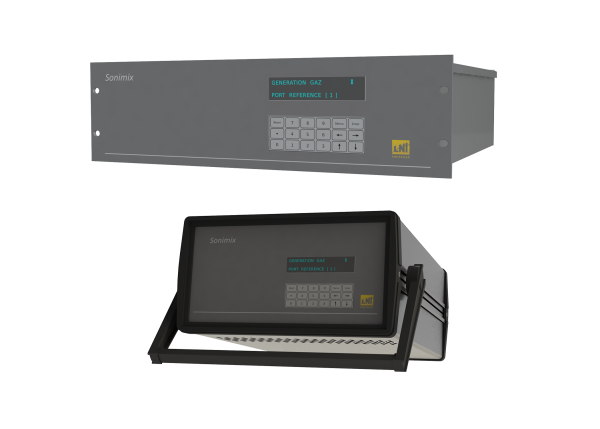 neu
Produkteigenschaften
Permeation
Mass Flow Controller technology
Remote control
Ergonomic with LCD display
Technische Daten
Models: Sonimix 6000 C1
General data
Dilution range
1/1000 to 1/30
Dilution principle
MFC
Dilution gas
Mixtures of : SO2 in air (25 to 100ppm), NO in N2 (25 to 100ppm), CO in air (1000 to 10000ppm), HC or BTX in air
Diluted gas flow
0 to 35 Nml/min air
Dilution gas line flow accuracy
0,5% rel + 0,1 FS
Repeatability on flow
0,2% rel + 0,1 FS
Warm up time
< 45 min
Stabilization time
< 1 min
Operating temperature
5°C – 40°C
Dimensions
19″ 3HE/84 TE , 500mm deep

portable casing in option

Net weight
15 – 20 Kg
Gas inlet requirments
Carrier gas
High grade zero air from pressurised cylinders or from Sonimix 3057
Air Flow
0 to 5000 Nml/min air
Pressure
3 +/- 0.3 bar (35+/- 5 psig)
Air Fittings
1/4'' and 1/8'' Swagelok
Gas outlet
Flow:
0,5 to 5 l/min, other values upon request
Fittings
1/4'' Swagelok
O3 section
O3 concentration
50 – 500ppb, adjustable by software, remote & local

(other values upon request)

Repeatability on flow
Better than +/- 2ppb (at 200ppb O3)
Permeation tubes section
SO2 permeation tube
50 to 250 ppb (standard values)
NO2 permeation tube
100 to 500 ppb (standard values)
BTX permeation tube
10 to 50 ppb (standard values)
Temperature of permeation tube oven
45°C
Temp. Stability of permeation tube oven
0.05°C
Communication
RS232
Standard
Electrical data
Power supply voltage
230V/50-60Hz

115V/60Hz

100V/50-60Hz

Installed power (Max)
200W
Informationen anfordern
Benötigen Sie weitere Informationen über dieses Produkt?
Bitte kontaktieren Sie uns unter info@lni-swissgas.de oder füllen Sie das Formular aus.
Benötigen Sie technische Unterstützung?