AG OFCAS Scroll iQ
Direct drive Scroll compressor with integrated dryer
A scroll compressor uses two interleaving scrolls to compress air. Devices using this technology are known for operating more smoothly, quietly, and reliably than conventional piston compressors. Unlike pistons, the orbiting scroll's mass can be perfectly counterbalanced, with simple masses, to minimize vibration. The scroll's gas processes are also more stable and continuous. Additionally, a lack of volume gives an increased volumetric efficiency.
These Compressors can provide up to 200 l/min of compressed air at a pressure of 10bar.
The units equipped with Dryer can reach a Dew-point value <-20°C. This module, installed internally, avoid the installation of supplementary external fridge module that requires specifically trained personnel.
The electronic controls and inverter technologies to control the motor make higher efficiency and reliability of the product. The touch-screen LCD interface provides simple and user-friendly management of all functions on the unit.
The AirGen OFCAS Scroll iQ is the ideal compressor to supply the Nitrogen generators series NG CASTORE (membrane) and NG POLLUCE (PSA)   for LC/MS applications.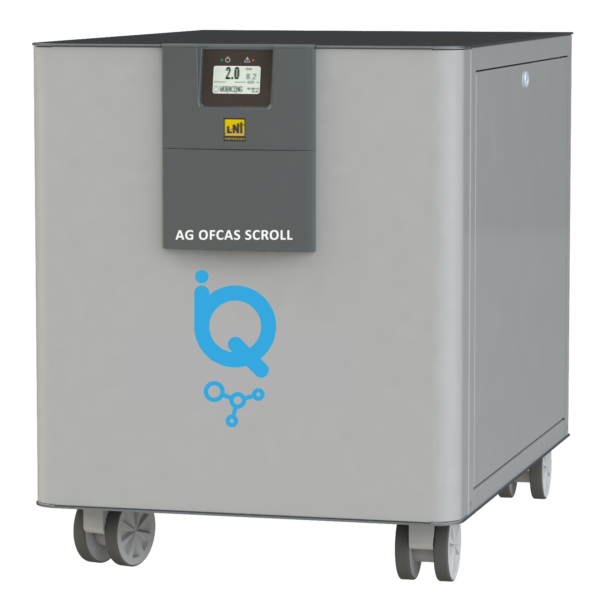 Productos Destacados
Parallel connection available
Exclusive energy-saving algorithm
Operation mode with:

– PID pressure control

– ON/OFF with power control

– ON/OFF with normal logic

Ultra silent technology: < 50 dB(A)
Oil less- low maintenance
Reliable – No vibration
Dew-point <-20°C (not in BASIC models)
Principales Aplicaciones
Chemical and pharmaceutical industry
Medical laboratories
Food factory
Laser equipments
Especificaciones Ténicas
Model: AG OFCAS iQ
220 8
220 8 BASIC
200 10
200 10 BASIC
200 8
200 8 BASIC
180 10
180 10 BASIC
General data
Rated power (Max)
2.2 kW
2.5 kW
1.8 kW
2.0 kW
Internal tank capacity
10 L
No tank
10 L
No tank
10 L
No tank
10 L
No tank
Dimensions
590(W)x920(D)x730(H) mm
Net weight
150 kg
140 kg
150 kg
140 kg
160 kg
150 kg
160 kg
150 kg
Noise level 1
< 50dB
< 52dB
< 48dB
< 50dB
Air outlet
Free Air Delivery
220 L/min
200 L/min
200 L/min
180 L/min
Max operating pressure
8bar (116psi)
10bar (145psi)
8bar (116psi)
10bar (145psi)
Dew Point 2
<-20°C
–
<-20°C
–
<-20°C
–
<-20°C
–
Communication
RS232
Standard
RS485
Standard
Digital I/O
Standard
Electrical data
Type of connection
IEC C20
Power supply voltage
230 Vac (±10%) 47..63 Hz
–
–
100-250 Vac (±10%) 47..63 Hz
Connections
Compressed air outlet
1/4" BSPP female fitting
Condensate drain
1/4" BSPP female fitting
Operating and storage conditions
Operating temperature
2-35°C (35.6-95°F)
Storage temperature
1-45°C (33.8-113°F)
Humidity (max, non-condensing)
80% at 25°C (77°F)
IP
IP20
Heat value (BTU)
7510
8530
6145
6825
Altitude
< 1000 m
Solicitar información
Need more information about this product?
Please contact us at info@lni-swissgass.eu or fill the form.
Do you need technical support?