new
HG PRO 4000
PEM Hydrogen generator
The HydroGen series HG PRO 4000 is able to generate up to 4000 cc/min of Hydrogen with purity better than 99.99999% and pressure up to 16 bar (232 psi). The HG PRO includes a new long life multilayer electrolytic cell with polymeric membrane (PEM) using distilled water. No acid or alkaline solutions are used.
The two-column PSA drying system with automatic regeneration ensures the maximum grade of hydrogen purity, and is completely maintenance-free. The HG PRO 4000 is the ideal Hydrogen for all GC-FID detectors. The on-board CPU constantly controls the operating parameters to guarantee full safety. The touch-screen LCD interface provides simple and user-friendly management of all functions on the unit.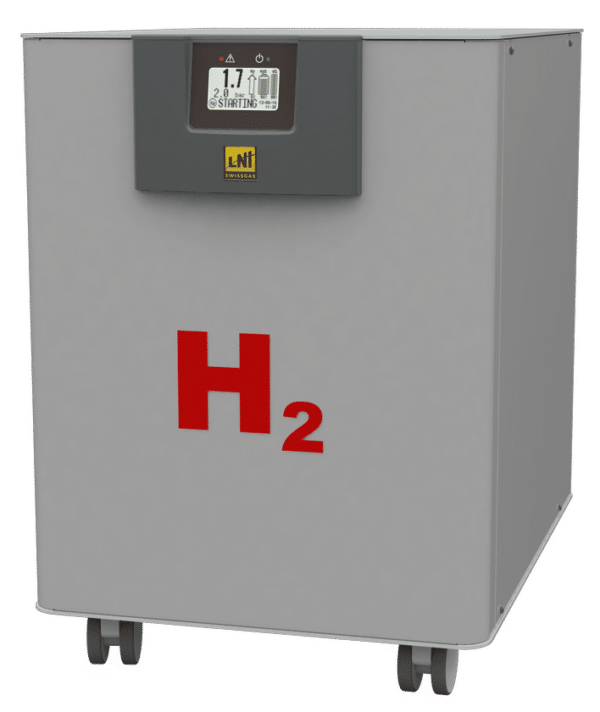 new
Product features
New long life multilayer PEM cell
Easy use
High flow rate up to 4000 cc/min
High pressure up to 16 bar (232 psi)
RS 232/485 and USB standard
Auto refill standard
High purity: 99.99999%
Dryer with no maintenance
Safety routine and self monitoring
High pressure GLS electronically controlled (patented)
Main applications
Carrier gas for GC and GS-MS
GC-FID / GC-NPD / GC-FPD
THA
Gas sensing
Fuel cell
ICP-MS collision gas
Technical specifications
Model: HG PRO
4000
4000 LN
General data
Electrolytic cell
PEM technology
Drying system
PSA (Pressure Swing Adsorption) / TSA (Thermal Swing Adsorption)
H2 purity
>99.99999%*1 Dew-point -75°C
>99.99999%*1 Dew-point -80 °C
Outlet pressure
12 bars (174 psi) / 16 bars (232 psi) (optional)
H2 flow-rate cc/min (Max)
4000
Dimensions (W x D x H)
44.5 x 66 x 66.5 cm
Net weight (no water in tank)
52 kg
53 kg
N2 content
< 3 ppm
< 1ppm
Communication
RS-232 / USB / RS-485
Standard
Digital I/O
Standard
LAN
Optional
Software functions
 
Parallel mode
Ready on board
Automatic tank refill
Standard
Fill Hydride canister function
Standard
Water
 
Quality Required
Deionized, ASTM II, <0.1uS
Supply pressure (max)
0 bar (0 psi), 0.5 bar (7.25 psi)
 Flow rate (max)
0.25 l/h
Internal tank capacity
20 L
Electrical data
 
Type of connection
IEC 320-C14
Power supply voltage
240 Vac (±10%) 50/60 Hz
Nominal power (Max)
1450W
Fuse rating (5x20mm)
6.3A (250 Vac – T)
Connections
 
Hydrogen outlet
1/8" compression fitting
Water
Quick release push-in fitting
H2 vent
1/8" BSPP female thread (quick fitting for tube 6mm)
O2 vent
1/4" BSPP female thread (quick fitting for tube 10mm)
Operating/storage conditions
 
Working Temperature
5-40°C (41-104°F)*2
Storage Temperature
1-50°C (34-122°F)
Humidity (max, non condensing)
70%
Noise
< 50dB(A)
IP rating
IP20
Pollution degree rating
2 (with no aromatic compounds)
Altitude
< 2000m
*1 referred to O2, dew point atmospheric Dew-point (ADP)
*2 with temperature > 35°C (> 95°F) the H2 purity could be less
Information request
Need more information about this product?
Please contact us at info@lni-swissgas.eu or fill the form.
Do you need technical support?