neu
NG CASTORE XL
Membran Stickstoffgenerator mit integriertem Scroll Kompressor
Der NG CASTORE XL ist ein Membran Stickstoff Generator. Dieser wurde entwickelt um aus normaler Druckluft Stickstoff mit einem Durchfluss bis zu 70 l/min und einer Reinheit von 99,8% zu produzieren. Ein optionaler Ausgang kann getrocknete Druckluft mit einem Durchfluss von bis zu 40 l/min liefern.
Die Produktreihe ist mit einem ölfreien Scrollkompressor ausgestattet und nutzt die Inverter-Technologie. Die exklusive elektronische Durchflussregelung kombiniert mit dem Kompressor Inverter, erlaubt es, Stickstoff mit einer höheren Reinheit bei einem kleineren Volumen und geringerem Druck der Luft zu produzieren, was in geringen Energie Kosten und einer höheren Lebensdauer resultiert. Dauerhafte Kontrolle der Parameter des Stickstoffs erlaubt es dem System mit der höchsten Effizienz zu arbeiten.
Der NG CASTORE XL wurde entwickelt um den speziellen Anforderungen im Bereich von Gas, Durchfluss, Reinheit und Druck für LC-MS Anwendungen gerecht zu werden.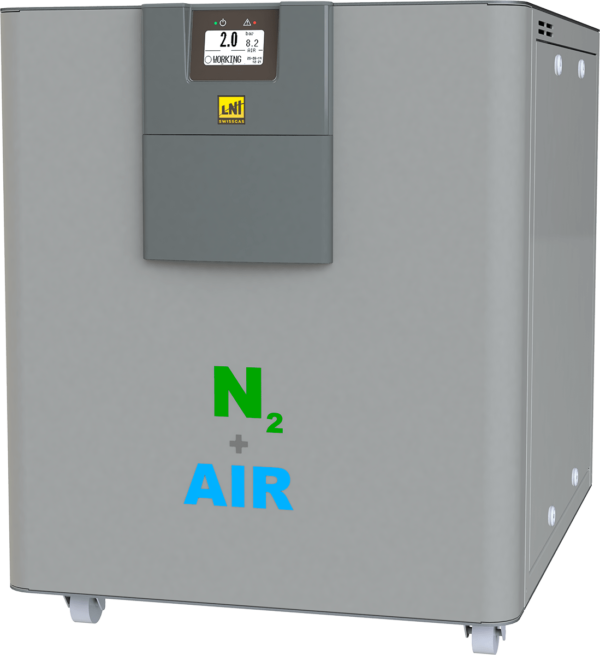 Produkteigenschaften
Kompatibel mit allen LCMS
Dualer Stickstoff und Nullluft Generator
Geringer Geräuschpegel
Geringe Wartungskosten
Produziert Stickstoff auf Abruf
Exklusive elektronische Durchflussregelung
Geräuscharm: 58 dB(A)
Verlässlich – Keine Vibrationen
Entwickelt für den 24 Stunden Betrieb
Hauptanwendungen
LCMS
Lösungsmittelverdampfung
Agilent MP AES
Technische Daten
Modell: NG CASTORE XL
20
40
70
20.40
40.40
20.60
N2 Ausgang
Durchfluss (Max)
20 l/min
40 l/min
70 l/min
20 l/min
40 l/min
 20 l/min
Ausgangsdruck (Max)
10 bar
Stickstoff Reinheit
Up to 99.8%
Druckluft Ausgang
Durchfluss (Max)
–
40 l/min
 60 l/min
Ausgangsdruck (Max)
–
10 bar
Taupunkt
–
< -40°C
Kommunikation
LCD mit Touch screen
Standard
RS485
Standard
RS232
Für service
Allgemeine Daten

Netzteil Spannung
Einzelphase 220-240 Vac 50/60 Hz
(100-115Vac 50/60Hz optional)
Anschlusstyp
Kabel 3 x 2.5mm²
(Kabel 3 x 4.0 mm²)
Leistungsaufnahme (Spitze)
2.0 KW (3.0 KW)
2.2 KW (3.5KW)
Eigengewicht
135 kg (145Kg mit 100-115Vac)
Geräuschpegel
58 dB
60 dB
Dimensionen (L x B x H) mm
590 x 710 x 740
Anschlüsse
N2 Ausgang
¼" BSPP Innengewinde
Druckluft Ausgang
¼" BSPP Innengewinde
Drain Ausgang
¼" BSPP Innengewinde
Arbeits-/Lagerbedingungen
Temperatur
5-35°C (41-95°F)
Feuchtigkeit (max, nicht kondensierend)
80% bei 25°C (77°F)
IP Schutz
IP20
Verschmutzungsgrad
2 (ohne Aromastoffe)
Informationen anfordern
Benötigen Sie weitere Informationen über dieses Produkt?
Bitte kontaktieren Sie uns unter info@lni-swissgass.de or fill the form.